The anticipation, anxiety, and excitement that surround medical entrance examinations are unparalleled. Aspiring medical students spend years preparing for these exams, pouring their heart and soul into their studies, and dreaming of the day when they can proudly call themselves doctors. One such crucial examination is the Shaheed Zulfiqar Ali Bhutto Medical University (SZABMU) Medical and Dental College Admission Test (MDCAT). After months of rigorous preparation and the grueling examination itself, the moment of truth has arrived – the SZABMU MDCAT 2023 result is out now! In this article, we will delve into the significance of this examination, the result announcement, and how aspiring medical students can check their results.
The Significance of SZABMU MDCAT
SZABMU MDCAT, conducted by the Shaheed Zulfiqar Ali Bhutto Medical University, is one of the most prestigious medical entrance exams in Pakistan. It serves as a gateway for aspiring medical and dental students to gain admission to top-tier medical colleges across the country. The examination assesses a student's knowledge, problem-solving skills, and aptitude for medical and dental studies.
Successfully cracking the SZABMU MDCAT is a dream come true for countless students who aspire to become doctors and dentists. It not only opens doors to quality medical education but also represents the first step on the challenging yet rewarding journey of a medical career.
The Anxious Wait is Over SZABMU MDCAT 2023 Result
The day the results are announced is one of the most critical moments in a medical aspirant's life. It's the culmination of their hard work, dedication, and countless sleepless nights spent preparing for the exam. The SZABMU MDCAT 2023 result has been highly anticipated by thousands of students across Pakistan. For them, it's the moment that could shape their entire future.
After meticulous evaluation and scrutiny, the SZABMU authorities have released the results of the MDCAT 2023 examination. The excitement and nervousness are palpable as students rush to check their results and see if their efforts have paid off.
How to Check Your SZABMU MDCAT 2023 Result
The process of checking your SZABMU MDCAT 2023 result is straightforward and user-friendly. Follow these steps to access your result: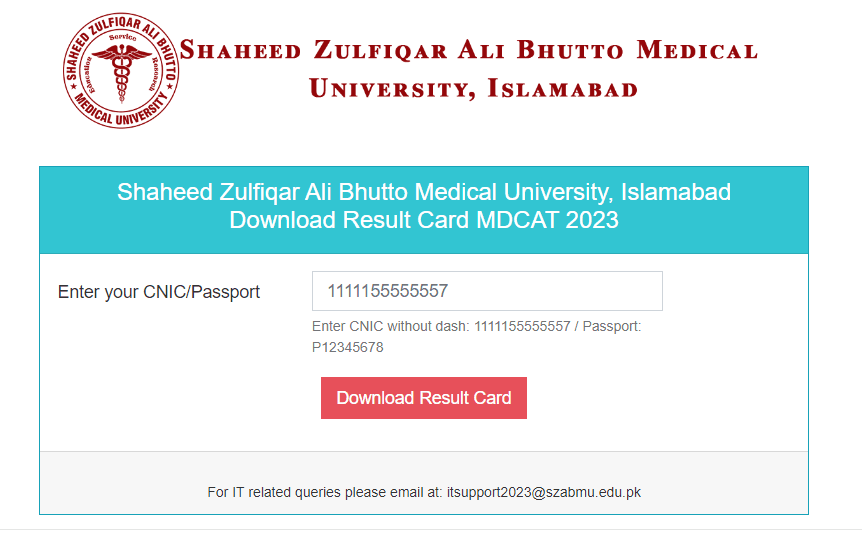 Step 1: Visit the Official SZABMU Admission Portal
Begin by opening your web browser and navigating to the official SZABMU admission portal. To access the portal, simply click on the following link: SZABMU Admission Portal.
Step 2: Enter Your CNIC/Passport Number
On the SZABMU Admission Portal, you will find a designated section for result checking. You will be required to enter your CNIC (Computerized National Identity Card) or Passport number, depending on the document you used during registration.
For CNIC, you should enter it without dashes or spaces, as follows:
For Passport, enter the Passport number in the format provided:
Step 3: Click on 'Submit' or 'Check Result'
After entering your CNIC/Passport number, click on the "Submit" or "Check Result" button. This will initiate the process of retrieving your SZABMU MDCAT 2023 result.
Step 4: View and Download Your Result
Upon successful submission of your CNIC/Passport number, your SZABMU MDCAT 2023 result will be generated and displayed on the screen. You can view your score, merit position, subject-wise scores, and pass/fail status.
Step 5: Save or Print Your Result Card
To keep a record of your result, you have the option to either save your result card as a PDF file or print it directly. It is advisable to retain both digital and physical copies for future reference.
Step 6: For IT-Related Queries
If you encounter any technical issues while accessing your result or have IT-related queries, you can reach out to the SZABMU IT support team at the following email address: [email protected]. They will assist you in resolving any technical concerns or difficulties you may face during the result-checking process.
Also Check:
What to Do After Checking Your Result
After checking your SZABMU MDCAT 2023 result, you may find yourself in one of the following scenarios:
1. Congratulations, You've Passed!
If you've passed the exam with flying colors, congratulations! You're one step closer to realizing your dream of becoming a doctor or dentist. Now, it's time to start preparing for the next steps in the admission process, such as applying to your preferred medical colleges and attending interviews if required.
2. Not the Desired Result
If your result is not as expected or if you haven't passed the exam, don't lose hope. Remember that success often involves setbacks and challenges. You can consider retaking the exam, seeking guidance from mentors, or exploring alternative pathways to achieve your career goals.
3. Addressing Any Concerns
If you have any concerns or discrepancies regarding your result, it's essential to reach out to the SZABMU authorities promptly. They can provide clarification and guidance on how to proceed.
Also Check:
Final Thoughts
The announcement of the SZABMU MDCAT 2023 result is a pivotal moment for aspiring medical and dental students in Pakistan. It marks the culmination of their hard work and dedication and opens doors to a promising future in the field of medicine. Whether you've achieved your desired result or not, remember that this is just one step in your journey.
Success in the medical field requires determination, resilience, and continuous learning. If you've passed the SZABMU MDCAT, congratulations on your achievement. If you haven't, don't be disheartened; setbacks are temporary, and there are multiple paths to success.
As you move forward in your pursuit of a medical career, always remember the core values of empathy, compassion, and a commitment to the well-being of others. These qualities, along with your dedication to your studies, will shape you into a compassionate and skilled healthcare professional. Good luck to all the aspiring doctors and dentists out there, and may your journey be filled with growth and success.