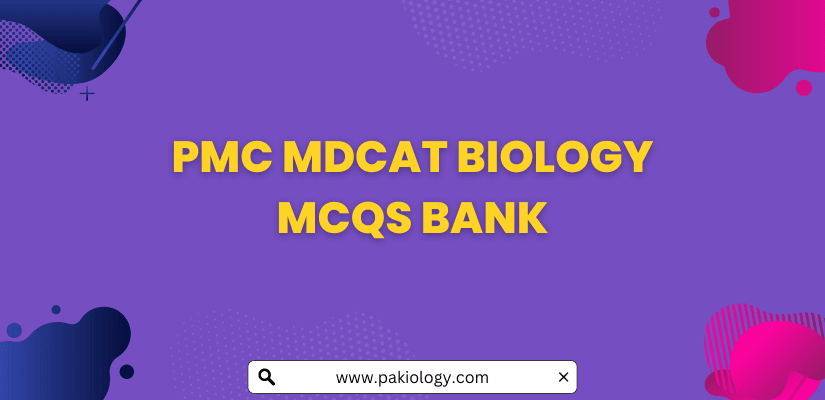 Make sure you're ready to take the new PMC MDCAT Biology test by getting yourself familiar with the types of questions you'll encounter on the test. Our PMC MDCAT Biology MCQ bank will help you learn about the different topics and prepare you to tackle all of these questions, while also giving you an idea of what kind of time you can expect to spend on each section of the PMC MDCAT Biology test. This tool features over 1800 total questions covering the material you'll encounter on the PMC MDCAT Assessment Test Learn more about how this biology quiz bank can help you boost your biology score.
Are you looking for a solid way to improve your Biology knowledge? Look no further! The following blog post will outline how to use this quiz bank, which is made up of over 1800 MCQs. It is an excellent resource for anyone looking to brush up on their Biology or prepare for exams. These MCQs are based on the PMC Biology MDCAT. The questions are formatted in the same way as the actual MCQs, and they cover a broad range of topics from zoology and botany.
[ez-toc]
MCQs on Biodiversity (acellular life/ variety of life)
Life on Earth is made up of two major domains, the eukaryotes (plants and animals) and the prokaryotes (bacteria). The latter is further subdivided into four other groups including archaea, bacteria, cyanobacteria, and viruses. Together these make up the five major groups of living organisms.
| Biology Chapter | |
| --- | --- |
| Total MCQs | 159 |
| Link | Start Now |
MCQs on Bio-energetic
The bio-energetic theory of aging suggests that energy production within cells and tissues declines over time. This decline in the rate of energy production is associated with an increase in oxidative damage and reduced ability to recover from stress due to decreased ability to synthesize proteins, nucleic acids, and lipids.
| Biology Chapter | |
| --- | --- |
| Total MCQs | 150 |
| Link | Start Now |
MCQs on Biological Molecules
In biology, a molecule is a small unit consisting of two or more atoms that are chemically bonded together. Different types of molecules can be recognized by their unique physical and chemical properties. A biological molecule is an organic compound that is found in living things.
| Biology Chapter | |
| --- | --- |
| Total MCQs | 132 |
| Link | Start Now |
MCQs on Cell Structure and function
There are three main types of cells in organisms, and they are classified by what they do. The first type is the prokaryotic cell, which is found in bacteria and archaea. The second type is the eukaryotic cell, which can be found in all plants, animals, and fungi. Finally, the third type of cells that you should know about are the plastids. These are found in plant cells and photosynthesize sugars to produce their food.
| Biology Chapter | Cell structure and function |
| --- | --- |
| Total MCQs | 168 |
| Link | Start Now |
MCQs on Coordination and Control
This quiz is about coordination and control. Coordination refers to the process of using different muscle groups together to perform a task. Control refers to regulating the speed, direction, and force at which muscles contract. It also includes the ability to adjust movements based on sensory feedback from your environment. People who have good coordination are often more successful in their careers because they excel at juggling multiple tasks simultaneously, such as writing an email while talking on the phone or driving and talking to passengers in the backseat.
| Biology Chapter | Coordination and control/nervous & chemical coordination |
| --- | --- |
| Total MCQs | 168 |
| Link | Start Now |
MCQs on Diversity among Animals
With the vast diversity among animals, it is no wonder that there are hundreds of different species that exist. Animals can be categorized into three major groups- mammals, invertebrates, and vertebrates. Mammals are warm-blooded animals that nourish their young with milk from mammary glands. They are often endothermic, meaning they have a higher body temperature than their surroundings and can maintain a stable internal temperature even when exposed to external changes in temperature or climate.
| Biology Chapter | |
| --- | --- |
| Total MCQs | 173 |
| Link | Start Now |
MCQs on Enzymes
An enzyme is a type of protein that can cause chemical reactions to take place without the need for any other substances. Enzymes are usually specific for one particular reaction, and they work by lowering the activation energy needed for a reaction to happen. They can be found in all living cells, where they help keep life going by speeding up every chemical process inside them. This means that enzymes are vital for everything from helping us digest food to enabling our bodies to grow and reproduce.
| Biology Chapter | |
| --- | --- |
| Total MCQs | 121 |
| Link | Start Now |
MCQs on Evolution
The theory of evolution is based on the idea that species change over time. The process of evolution, known as natural selection, occurs when individual organisms in a population vary in their traits. Those individuals that happen to possess characteristics that make them better suited for a living are more likely to survive and produce offspring, which will inherit those same traits. Over time, these traits become more common in the population until they reach fixation.
MCQs on Life process in Animals & Plants
A life process is an activity that one or more organisms in an ecosystem use to stay alive. These processes can be categorized into three groups- producers, consumers, and decomposers. Producers can make their food through photosynthesis or chemosynthesis. Consumers cannot produce their food but they need to eat other things to stay alive and spend a lot of time in search of food.
| Biology Chapter | Life process in animals and plants (nutrition/gaseous exchange/ transport) |
| --- | --- |
| Total MCQs | 155 |
| Link | Start Now |
MCQs on Prokaryotes
Some prokaryotes, such as archaea and bacteria, lack a nucleus and organelles. Some prokaryotes have cell walls that are made of substances other than cellulose, such as peptidoglycan in bacteria or the chitinous layer of archaebacteria. These two types are known as Gram-positive and Gram-negative bacteria, respectively. Finally, all prokaryotes lack mitochondria.
| Biology Chapter | |
| --- | --- |
| Total MCQs | 108 |
| Link | Start Now |
MCQs on Reproduction
In the human reproductive process, the male and female reproductive systems work in tandem to create offspring. The male reproductive system is primarily responsible for creating and delivering spermatozoa, while the female reproductive system produces a variety of hormones that control ovulation, or the release of an egg. Once an egg is released from one of the two ovaries, it travels through a fallopian tube where it can be fertilized by a sperm cell.
| Biology Chapter | |
| --- | --- |
| Total MCQs | 134 |
| Link | Start Now |
MCQs on Support & Movement
Connective tissues are made of cells that form structural elements like tendons, ligaments, and cartilage. They also form the vascular system that transports blood throughout the body and the lymphatic system that protects us from infection. Some examples of connective tissue are bone, skin, muscle, fat, and blood vessels. The three types of connective tissues are dense connective tissue (fibrous), adipose tissue (fat), and blood.
| Biology Chapter | |
| --- | --- |
| Total MCQs | 128 |
| Link | Start Now |
MCQs on Variation & Genetics
DNA is made up of genes, which are a sequence of nucleotides. Genes code for various traits like eye color and blood type. DNA is inherited from our parents in the form of chromosomes, but only one set from each parent. This means that we have two copies of each gene, one from mom and one from dad. When a sperm fertilizes an egg to create a zygote, it has only half the number of chromosomes that it needs to divide into two cells.
| Biology Chapter | Variation and genetics/inheritance |
| --- | --- |
| Total MCQs | 118 |
| Link | Start Now |
MDCAT Biology MCQs Bank
Making good grades in biology is tough. With all the latest advances in medical technology and treatments, it's hard to keep up. Luckily, you don't have to go alone! We've compiled a list of the best biology MCQs for your learning pleasure.
You can't make it through a biology course without answering a few practice questions. For many students, the MDCAT is looming and they want to make sure they are prepared for all their upcoming tests. We've got you covered! Check out our free Biology quiz bank. It features hundreds of MCQs that cover topics such as cellular respiration, evolution, genetics, etc.